Tue, Feb 12, 2019 at 3:05PM
---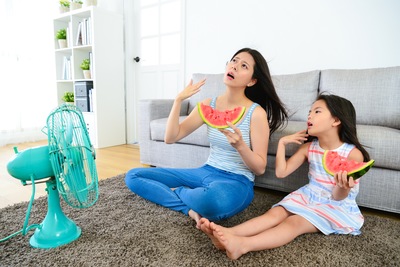 For the same reasons that you wouldn't let a careless mechanic tinker with your vehicle, or an untrustworthy person watch your kids after school, untrained and unlicensed air conditioner work can lead to major problems and costly accidents.
The truth is, knowledgeable and dependable team members well-versed with Palm Coast air conditioning go through rigorous training and continual on-the-job professional development in order to help keep you and your loved ones safe and comfortable inside your home.
In an atmosphere of do-it-yourself (DIY) projects and online tutorials, HVAC work is one focus that's always best left to skilled technicians. Read on to learn why your air conditioner deserves an expert touch.
Optimum Climate Control
Summer is fast approaching in Central Florida, and that means increased heat and humidity. Wellness experts say long-term exposure to the elements can have a lasting and negative impact on your health. Why put yourself and your loved ones at risk? Now's the ideal time to have your A/C unit inspected and repaired (if necessary). That way, you won't be in for any surprises when temperatures start to heat up.
Indoor climate control is about more than just feeling cool inside your home. Doctors say it helps regulate blood flow and keep your body functions in top shape. So, you can get better sleep, be more focused on household tasks, and have a generally improved mood from day to day.
Early Detection of Potential Problems
If someone asked you to define a "c-wire," what would be your first reaction? Most of us aren't aware of that terminology, and with good reason. When you're busy with work, school, and life duties, you don't have the time or energy to play around, especially when it comes to something as important as air conditioning.
Your skilled and experienced A/C technician knows that a faulty common wire can wreak havoc on your thermostat. Experts at air conditioning repair in Daytona Beach and throughout Central Florida, HVAC professionals have the know-how and proficiency to detect and resolve any climate control issues you might have.
That means no matter if your A/C is blowing hot air, there's inconsistent cooling from room to room, you notice an odd smell or something just doesn't feel right, you can quickly and safely get the problems fixed.
Ongoing Maintenance and Prevention
You don't have to wait until something goes wrong with your air conditioner, nor should you take that risk. By partnering with a dynamic company well-versed in air conditioning in Daytona Beach for regularly-scheduled maintenance, you get the peace of mind that your HVAC system is always working as it should.
If your unit requires repair or your technician notices what could become a bigger problem, you get immediate notification before it can turn into an issue. No DIY enthusiast can offer you that kind of assurance. Plus, many valuable features come standard with this service, including:
checking refrigerant levels
flushing of condensate drain
cleaning and replacement of dirty air filters
inspecting all hardware and moving parts
tightening of electrical components (if needed)
early detection of air leaks or energy loss
and much more
Trustworthy and Reliable Professionals
Perhaps one of the biggest reasons you want and deserve HVAC professionals is for the peace of mind that everything is done right the first time. In addition, you won't be stuck with any unpleasant surprises. Some shady or amateur outfits will try to replace parts when that's not what's required. Or, they'll try to sell you upgrades that aren't needed.
By contrast, when you work with trusted and dependable technicians, you get expert advice and assistance at an affordable price. This friendly and straight-forward customer service is partly how we've earned a solid reputation as the premier resource for A/C repair in Deltona and throughout Central Florida. In addition to covering all your climate control needs, we also specialize in new equipment installation, commercial refrigeration, indoor air quality, and ongoing maintenance. Contact us today to get your air conditioner all set for a summer full of cool and collected fun and enjoyment.