Fri, Jan 18, 2019 at 10:07AM
---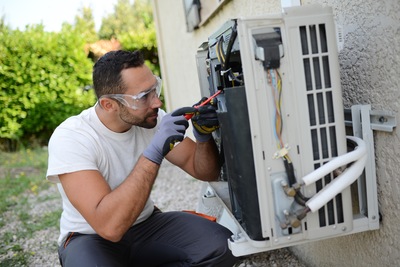 Here in the Sunshine State, access to reliable air conditioning is essential. More than just keeping you cool, health experts say A/C could be a lifesaver in many situations. That's especially true for those people who suffer from health complications, including allergies, breathing difficulties, and other issues. For these reasons and more, it's so important to ensure your air conditioner is in top shape throughout the year.
Some people take a casual or "wait and see" approach to A/C maintenance. The problem with that is you could be setting yourself up for an awkward or uncomfortable situation. Why take the chance of putting your loved ones and pets in danger? Read on to learn more about how to tell when it's time to get a new A/C unit, and what steps you should take to make sure you're getting the best deal and equipment available.
1) Assess Your Current Situation
There's a good chance that you were supplied with documentation related to household equipment (including the air conditioner) when you purchased your home. Whether you live in the residence for all or part of the year, or use it as a rental unit, consistent maintenance is key to the long-term function and service of your air conditioner.
While some issues will be noticeable (lack of cooling, odd sounds or smells), others won't be as readily apparent until a larger problem arises. That's why regular upkeep and service should be a top priority. When you team with a trusted and reputable company well-versed with air conditioning repair in Daytona Beach, you get the peace of mind that your A/C unit will always be operating as it should.
This personalized attention and business relationship are beneficial both now and later. For instance, when it comes time to replace your air conditioner, the process is easier and more affordable when you've already established a connection with a team of highly-skilled and qualified HVAC technicians.
2) Do Your Research
You might think that all air conditioners are the same. In fact, choosing the right size unit is critical to performance and long-term function. Unfortunately, sometimes the terms used can be confusing.
For instance, you may hear of the term "tonnage." This refers to the cooling capacity of your air conditioner. Similar to a vehicle's engine, more tonnage yields more power. Thankfully, you don't have to remember any industry lingo when you work with a company skilled and qualified with A/C repair in Deltona and throughout Central Florida. Our friendly and knowledgeable team members will help you find the very best air conditioner for your unique desires and requirements.
Aside from size, there are many other considerations as you decide on the best A/C unit for your property. For example, like most major purchases, price is a concern. These days, many products and services are advertised based on price alone. While this is certainly important, it's equally as crucial to get the right A/C unit for your home.
Some disreputable companies just want to make a quick sale. They don't care what happens after your unit has been installed. By contrast, Extra Air and Heat has built a solid track record through the years as the premier resource for Palm Coast air conditioning. You simply won't get this kind of attention to detail and tailored customer experience anywhere else.
3) Team with the Best Company
There are many other factors to mull when it comes to getting the best air conditioner. That includes SEER rating, efficiency, maintenance considerations, and more. The whole process can quickly become frustrating and even overwhelming. But it doesn't have to be. When you partner with a reliable air conditioning company, you get the peace of mind that all bases have been covered.
At Extra Air and Heat, our team members are always happy to answer any questions you may have about air conditioning and the installation process. In addition, we offer other helpful services including commercial refrigeration, indoor air quality, ongoing maintenance, and more. That personalized attention is partly why more people count us as the best outlet for air conditioning in Daytona Beach. Contact us today to learn more about how simple and affordable it is to repair or replace your A/C system.