Wed, Jul 18, 2018 at 4:33PM
---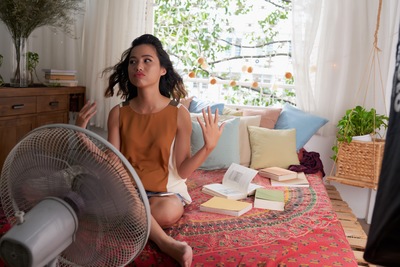 Part of life in Central Florida is dealing with increased heat and humidity for several months out of the year. Many of us have become accustomed to this reality. Still, it's important to recognize that extremes in climate can quickly take a toll on the health of people and pets.
Medical doctors assert humidity contributes to higher levels of airborne allergens. They say that's true even if you don't normally suffer from allergies. There are also many other health complications involved when temperatures soar.
Thankfully, there are methods to reduce the impact of heat and humidity. Use these suggestions to keep cool and comfortable this summer:
Know the Physical Effects
You may have seen weather reports listing a "feels like" temperature. As humidity increases, comfort levels decrease. This is similar to the winter "wind chill" effect in Northern climates.
For example, a temperature of 95 degrees feels like 95 when the relative humidity is only 30 percent. However, 65 percent relative humidity at 95 degrees feels like a scorching 117 degrees on your skin.
Health experts say this happens because high humidity inhibits the body's built-in cooling mechanism. Despite sweating, our bodies still feel overheated. That's why it's common to feel hot and sticky when outside during summer.
Prolonged exposure to increased heat and humidity can wreak havoc on health. Along with dehydration, potential negative effects include heat cramps, exhaustion, and even passing out due to heat stroke. Recent news reports have also detailed heat-related death across the country.
Given all of this, it's essential to partner with skilled professionals adept at Palm Coast air conditioning solutions. A skilled and qualified HVAC technician can ensure your air conditioner is in stellar working order to keep your and your loved ones safe and comfortable all summer long.
Consider Equipment Stress
Many people in Central Florida use their air conditioners year round. Still, no season places more stress on equipment than the hot and humid summer months.
Every air conditioner has a dehumidifying capability. This occurs when heat is absorbed by the unit's evaporator coil. At this time, moisture is also absorbed from the air. That's why you may have noticed water discharge near your exterior air conditioner. Most people, however, have little contact with their A/C unit.
Still, there are many tell-tale signs that your air conditioner is in need of maintenance and repair. That includes a feeling of moistness in the air, damp or musty smells around your home, foggy windows, and more. If you notice any of these symptoms (or something just doesn't feel or look right), it's wise to contact a reputable professional skilled at A/C repair in Deltona and the surrounding region.
Common causes of increased humidity in your home (aside from weather conditions) include inadequate ventilation, incorrect air conditioner size, improper maintenance, and more. Rather than attempt to diagnose problems on your own, it's best to reach out for professional assistance.
Schedule Regular Maintenance
For years, we've been a trusted resource for air conditioning in Daytona Beach and throughout Central Florida. Our friendly and knowledgeable staff are always glad to answer your climate control-related questions and concerns.
Along with HVAC maintenance and repair, we offer a variety of other services. That includes indoor air quality assessment and improvement, new equipment installation, commercial refrigeration, and more.
The health of your loved ones and pets is too important to compromise. Don't let A/C warning signs go unresolved. Contact us today for all your air conditioning needs.