Sun, May 14, 2017 at 4:10PM
---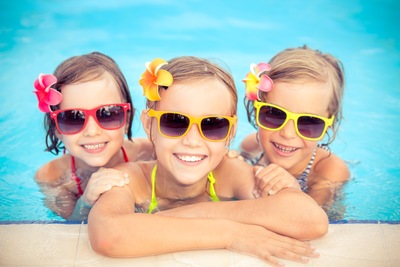 Summer will be in full swing before you know it! And, at Extra Air & Heat, we can't wait to enjoy summertime BBQ's with the family, swimming in the pool, and afternoon trips to the beach.
But, with the kids out of school, and you having to run them back-and-forth from summer camps and activities, we know that it's easy to put your Palm Coast home's summer maintenance to-do list on the back-burner.
That's why May is the perfect time to tackle those long overdue projects that will help you ease through the summer holidays—hopefully, stress-free!
In today's blog, we're sharing some of our top tips for the summer home improvement projects you can get sorted this May before the kids are out of school. Keep reading to find out more!
Get your backyard ready for parties
Now is the perfect time to get your backyard ready for pool parties and BBQ's. But, there's probably some much needed cleaning and maintenance that needs to be done.
First, let's tackle the pool. With summer storms causing tree leaves to scatter and blooming flowers to spread pollen, there's a good chance that your pool gets more debris floating around in it than usual this time of year. Plus, the increase in swim time can cause extra dirt, lotions, or oils to build-up in the pool.
That's why, it's important to skim your pool weekly, and remove any floating debris as soon as possible. Also, make sure to check that your pumps are working properly and the chemicals are in the correct balance.
After your pool is sparkling clean—tackle the grill next! Give your gas grill a deep cleaning by scrubbing the grates with a liquid grill cleaner, and using a wire brush on the burners. Clean out the drip pans and don't forget to wipe down the exterior of the grill. Then get ready, because it's cookout time!
Show your windows some TLC
It's window washing time! Before the weather heats up, get outside and give your windows a good scrub down. Fill a bucket with warm, soapy water and use a sponge, or for smaller streaks, use a liquid glass cleaner and paper towel.
Don't forget that your window screens need to be shown some love this time of year, too! You can take down your screens and gently scrub them with soapy water, or if they are ripped or damaged, replace them with new ones.
Prep your air conditioner for its busiest season
We all know that your air conditioner works overtime during summer, so it's important to make sure it's ready in-advance.
Start by replacing your old air conditioner filter to keep your unit running efficiently and the air inside your home clean. If you suffer from allergies, use a HEPA (high-efficiency particulate air) filter to reduce the pollen, dirt, and dust particles in the air.
If your AC is in need of any summertime maintenance, give us a call! We can repair or replace your unit, and will have your home cooled down in no time.
Don't suffer in the summer heat—let our professionals take care of your routine AC maintenance for you!
Do you have any other tips for summertime, home maintenance projects? Let us know!