Mon, Apr 24, 2017 at 9:25AM
---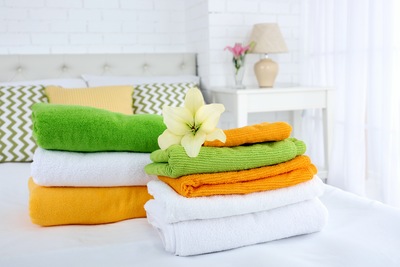 At Extra Air & Heat, we know that we are lucky to enjoy beautiful, warm weather every April--while some of the rest of the country is still trying to recover from winter!
It's no surprise that family and friends love to come visit each Spring for a little rest and relaxation at the beach.
But before your excited guests arrive, you need to prepare your home for an influx of springtime visitors.
In today's blog, we're sharing some of our top tips to make your home feel comfortable and inviting for your visiting family and friends from up North. Take a look!
Start with the guest room
It's pretty obvious that the guest room should be the first project on your list, since that's where they will be spending the majority of their time while staying at your home. You already know to change the sheets and leave out fresh towels, but there are other fun things you can do to make the room extra special for your visitors.
They may want to retreat to their room for some peace and quiet, so stock up on the latest issues of their favorite magazines and leave them on a side table in their room. If the room doesn't have one already, purchase a full-length mirror, so your guests feel comfortable getting ready for a night out.
Last, splurge on some travel-sized bath products, soap, and toothpaste for the guest bathroom, so they don't have to worry about bringing their own or borrowing yours.
Stock the fridge and pantry with their favorite treats
Before your guests arrive, check-in with them to see if anyone is on a special diet or has food allergies. There's nothing worse than sitting down to a home-cooked meal that you can't eat!
Take the time to stock up on the food, drinks, and snacks that your guests enjoy, so they feel completely at ease in your home. Plus, if you take the time to shop in-advance, it will save them from having to run to the grocery store, which means they can enjoy more time at the beach!
Keep them cool and comfortable
Chances are, your Northern guests won't be used to our humid, warm springtime weather. To make sure they are comfortable in your home, keep your air conditioning running, so they can cool off after a long day at the beach. The heat is great for outside, but your guests don't want to sit in it inside your home, too!
Don't forget! Along with the heat, your guests may also not be used to our springtime allergens. To limit the amount of pollen and dust in the air, replace the HEPA filters in your air conditioning system before they arrive. No-one wants to spend their vacation sneezing!
Do you have any other tips to get your Daytona Beach home ready for Spring visitors? Let us know!
Then call us if you need any repair or maintenance done to your AC system before your own guests arrive!