Tue, May 16, 2017 at 4:35PM
---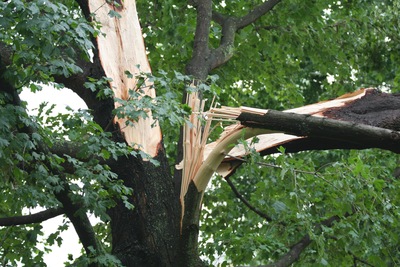 At Extra Air & Heat, we know that our rainy season in Daytona Beach is approaching fast! It won't be long until we experience daily thunder and lightning storms, all Summer long.
We want to help you keep your home safe, so here are a few of our top tips for surviving Florida's stormy season. Keep reading!
Get your yard into tip-top shape
Now is the perfect time to remove dead, weak, or broken branches off of any trees that hang over your house or driveway—to make sure they don't break and fall, damaging your property, during a Summer storm. Check all your trees and shrubs, looking for areas that could cause potential problems.
You may even need to have an entire tree removed from your yard if you are worried it could fall down on your home or car during a lightning storm. Remember to check all around the house for spots that could result in potential tree damage to your property, including the front, back, and side yards.
Inspect your roof and gutters
Before the heavy rain and wind become a daily occurrence, you want to inspect your roof and gutters—checking for potential problem areas.
Loose roof material or shingles can easily detach and fly away during storms with heavy winds. Not only can the missing shingles cause leaks into your house while it's raining, but they can also cause damage elsewhere if they fly off into a window or hit a parked car.
You can hire a licensed contractor to inspect your roof and take care of any repairs before the Summer storms start. That way you can prevent any leaks or roof damage before they happen!
Also, clear out any debris or leaves from your gutters, and make sure that they are tightly secured to your home, so that they can function properly during the stormy weather.
Protect your outside AC unit
Just like your home and car, you want to keep your AC unit protected outside during the rain storms. As we said before, cut down any nearby tree branches that could possibly break off and damage your unit.
Also, make sure to bring inside your home or garage any patio furniture, potted plants, lawn maintenance equipment, or children's toys, which could fly around during the storm and cause damage. If possible, cover your unit for extra protection.
If your AC unit requires any maintenance during Daytona Beach's stormy season—give us a call! We'd be happy to repair or install new equipment to get your home back to the cool temperatures you enjoy during Summer's hottest months.
Stay safe, Daytona Beach!