Mon, Mar 26, 2018 at 1:00AM
---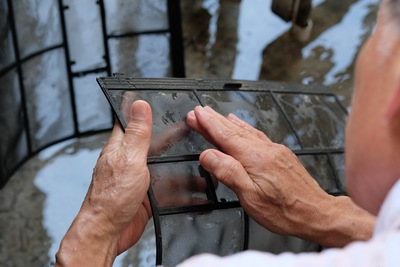 When the summer temperatures heat up, you're most focused on keeping yourself and your loved ones cool and comfortable inside. Still, ignoring signs of potential problems with your air conditioner can add up to major repairs. During that time, you'll have to find other ways to keep cool. The best way to avoid any hassle is to recognize and report warning signs early on.
While you don't have to be an expert in all things A/C, it's important to understand the basics that will keep your unit in perfect working order for years to come. In this article, you'll learn what causes wet filters and how to get the problem fixed quickly and efficiently.
Know the Signs and the Dangers
There's nothing normal about a wet air filter, and in fact, it's usually an indication of a larger problem. Air filters should always remain dry during normal operation. When moisture collects, it sets the stage for the growth of mold and mildew. This causes damage to your home and negatively affects the health of people and pets.
In most cases, the culprit is likely a clogged condensate drain line. The drain line is designed to catch moisture and direct it outside. You may have noticed a "drip area" outside your home near the A/C unit. This signals proper function.
However, wet air filters tied to clogged drain line issues drastically reduce the unit's efficiency. This produces higher utility bills and puts undue stress on the air conditioner. More importantly, it creates a serious health risk.
Correct the Problem Early On
Rather than trying to clear the clog yourself, replace air filters, or perform any other "quick fix" remedies, it's best to immediately contact a professional skilled at air conditioning repair in Daytona Beach and the surrounding area. Doing so avoids bigger problems down the line.
A qualified A/C technician will inspect the unit, address the problem, and also check other elements of your air conditioner to ensure it's operating at maximum efficiency. That makes it unlikely you'll experience further problems, which saves you time and aggravation.
Practice Prevention
Once the problem has been accurately addressed, take steps to prevent a recurrence. Begin by setting a schedule to regularly replace your air filter. Especially in the hot summer months, debris and unhealthy air particles quickly collect. Dirty air filters place undue stress on your unit that can cause the need for repairs.
In addition, it's best to use high-quality air filters over flimsy/inexpensive ones. Speak with a reputable HVAC technician well versed in Palm Coast air conditioning to learn the right filters for your unit.
Next, it's wise to schedule regular checkups from a trusted HVAC company. Not only does this help keep your unit in perfect working order, a skilled technician can often catch potential issues before they escalate into larger problems.
For years, we've been the go-to resource for A/C repair in Deltona and across Central Florida. A full-service company, along with air conditioning service and repair, our expert team members are highly-trained in the areas of commercial refrigeration, new equipment installation, indoor air quality, and more. Contact us today to ensure your air conditioner is ready for another hot Florida summer.