Wed, Apr 10, 2019 at 4:30PM
---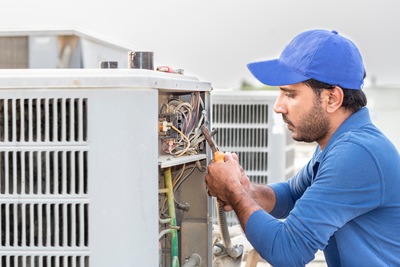 If it seems like the heat and humidity have arrived early in Central Florida, it's not just in your mind. Local meteorologists say summer has taken a head start. That means it might already be uncomfortable inside your home.
Thankfully, reliable air conditioning in Daytona Beach and the surrounding area can get you back in the comfort zone in no time. But what if your A/C unit isn't working properly? Sometimes it can be difficult to notice problems, while other times the symptoms are hiding in plain sight. Here's how to tell when it's time to repair or replace your air conditioner:
1) Poor Air Flow
If you haven't run your air conditioner in a while, you might think that it needs some time to "warm up" in order to begin cooling your home. In fact, today's HVAC units are built to run on a moment's notice, offering you ideal climate control when you need it. So, if it seems like your air conditioner is blowing hot air, this could be a sign of a larger problem.
You might also notice weak air coming from the vents. Or, the unit seems to run forever and never removes humidity from the air. When you notice these and other tell-tale signs of inconsistent air flow, it's time to contact a trusted and reputable HVAC company who can quickly and efficiently diagnose and solve your air conditioner troubles.
2) Loud Noises
Your air conditioner is specifically designed to run in the background, offering you maximum comfort without any distraction. So, when you heard clanging, knocking, squealing, grinding, or any other loud and constant sounds coming from your HVAC unit, you can be sure that something's off.
This could signal a problem with a belt inside the unit slipping out of place. It could also be a motor issue. Rather than trying to diagnose problems on your own, it's best to contact a dependable firm well-versed with air conditioning repair in Daytona Beach.
3) Odd Odors
Do you notice a foul stench every time you turn on your A/C unit? This isn't supposed to happen. In fact, lingering odors almost always signal what could become a big problem with your air conditioner. Ignoring the issue will only make matters worse, and could result in a major headache down the line. Who has the time or energy to put up with frustration?
In addition, nasty smells could be harmful to health of your pets and loved ones. That's a scary scenario that no one wants to face. Avoid potential pitfalls by reaching out to a skilled and qualified team of HVAC professionals any time you smell odors from your air conditioner.
4) Higher Utility Bills
Sometimes it seems like your air conditioner is doing its job as normal, and then you get hit with a sky-high utility bill. What on earth happened? The problem could be anything from a leak in the ductwork, to a broken thermostat switch, or simply the sheer age of your A/C unit.
There's no need to pay more than you have to when it comes to quality climate control. Instead, it's wise to contact your Palm Coast air conditioning experts right away. These master technicians will get straight to work diagnosing and fixing your air conditioner issues.
5) Something Just Seems Off
These are just a few of the many issues that could be plaguing your air conditioner. Now that temperatures are rising in Central Florida, you can't afford to put the health and safety of your pets and loved ones at risk. That's what makes now the ideal time to ensure your air conditioner is up to speed and ready to tackle another hot and humid summer.
For years now, we've been the go-to resource for countless homeowners across the region. Along with air conditioner repair, we also specialize in commercial refrigeration, new equipment installation, indoor air quality, and more. That commitment to service and quality is partly how we've built a solid reputation as the premier outlet for A/C repair in Deltona. Contact us today to get your air conditioner in top shape for summer.