Tue, Nov 06, 2018 at 2:55PM
---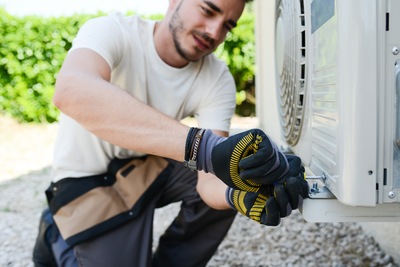 Nothing compares to the comfort of a climate-controlled home or office. But if your air conditioner isn't working properly, you could be putting your health, productivity, and safety at risk. That's why it's essential to keep your unit well-maintained throughout the year.
Along with scheduled checkups, there are other simple ways you can help your air conditioner run smoothly every day. Here's how to get started:
1) Avoid Overworking Your A/C
As mentioned, your air conditioner's job is to keep the inside of your home and/or office cool and comfortable. However, when your unit is forced to work too hard, that could cause damage and create costly repairs. Thankfully, you can prevent that from happening by following a few simple tips.
That includes creative use of blinds and curtains. Consider covering windows during the heat of the day. Many people also opt for tinted windows, which achieves the same purpose. Also, keep heat-producing elements from your thermostat. This could "confuse" your system, making the air conditioner work harder than it has to.
2) Replace Air Filters
Life's busy, and it's not always easy to remember every small detail. When your air conditioner is working properly, you might think everything's okay. Still, it's important to ensure your air filters are clean. Dirty air filters also make your air conditioner work harder. More importantly, they could cause health problems for pets and loved ones.
As a general rule, you should replace your air filter every month during peak use. These filters are available at most big box stores. If you just don't have the time or desire for this maintenance task, reach out for A/C repair in Deltona. A friendly and knowledgeable technician will be glad to help you maximize the efficiency of your air conditioner.
3) Clean Inside Vents
Part of life in Central Florida means having to deal with increased dust. When dust collects inside your air conditioner vents, efficiency takes a major hit. You can prevent this from happening by dusting vents every week or so. You might also choose to use a vacuum on low setting.
Still, there are times when no amount of surface cleaning seems to solve the problem. That's when it's best to schedule air conditioning repair in Daytona Beach. Rather than trying to diagnose errors on your own, reliable technicians can get to the bottom of the issue in no time, and get you back to enjoying the cool comfort of your air-conditioned home or office.
4) Keep Outdoor Units Clutter-Free
It's important not to store anything too close to your outside air conditioner unit. While you might have shrubs planted to keep it concealed from view, it's best not to plant them right next to the air conditioner.
In addition, it's wise to get in the habit of checking your outside unit every week or so. Remove leaves and debris that might have collected. If you're unable or just don't feel like checking on a regular basis, reach out to a company well-versed with Palm Coast heating and air.
5) Schedule Regular Checkups
In fact, skilled and qualified technicians are always on hand to keep your air conditioner in top shape throughout the year. Even if you don't plan to run your unit during the winter months, it's still important to keep your air conditioner in excellent condition, so it will be ready for next year, or any time outdoor temperatures rise.
The first step is to partner with a trusted and reputable company with a stellar track record of outstanding A/C repair in Daytona Beach, Florida. For years now, Extra Air and Heat has been proud to be the go-to resource for home and business owners throughout Central Florida. Along with air conditioning, we also specialize in new equipment installation, commercial refrigeration, indoor air quality, and more. Contact us today to schedule your HVAC checkup.