Mon, Aug 30, 2021 at 10:00AM
---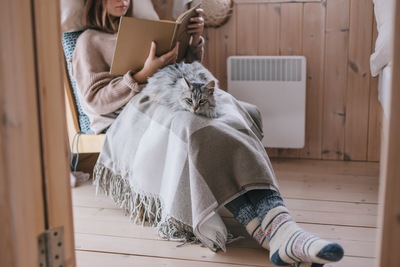 Here in Florida, homeowners can go months without turning on the heat. That's because our tropical climate keeps the outside temperature mild (if not hot) for most of the year. However, fall will soon be transitioning into winter, and it may get cold enough outside to consider turning on the heat. Before that time comes, be sure to follow these 5 steps!
Change Your Air Filters
Proper air filtration is key to making sure your heating runs correctly all season. When air filters get dirty and clogged, then the heating system will have to work harder. Apart from being more expensive, this can also lead to premature aging, overheating, and system failure.
Clean Around the Heating System
Check your heating system to make sure there is nothing flammable too close to it. This includes things like boxes, tote bags, brooms, mops, and more. Keeping these things too close to the heating system may be a fire hazard. Furthermore, clean the floor around the heating system, making sure to remove all dust and dirt.
Check Carbon Monoxide Detectors
Put fresh batteries into each carbon monoxide detector in your home. While you're at it, replace the batteries in all your smoke detectors as well. If you don't already have carbon monoxide detectors in your home, then consider installing them if you have any type of fuel-burning heating system.
Do an Early Heater System Check
After completing these three previous steps, you'll want to do a system check before regularly relying on your heater. Turn on the heating system and let it run a complete cycle. While that is going on, listen to the sounds it makes. If it sounds louder than normal or makes squealing or squeaky sounds, then you may need to call AC repair in New Smyrna Beach.
What's That Burning Smell?
Over time, dust can accumulate inside the heating system and ductwork in the home. This is especially true in Florida for homes that go a majority of the year without running the heater. When heating systems run for the first time, you may notice a burning smell. That's completely normal and should dissipate after one or two full cycles. However, if the smell lingers beyond that point, then shut off the heating system and call a professional.
Additionally, before colder weather strikes, you may benefit from scheduling a tune-up with professional air conditioning repair contractors. Experts can ensure that everything is in working order by performing numerous system checks and making any necessary repairs. Avoid emergency breakdowns in the future by calling Extra Air and Heat today!