Mon, Sep 21, 2020 at 11:46AM
---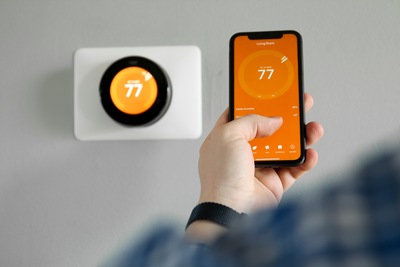 It was a long and hot summer, and it may have felt even longer if you were struggling with an outdated thermostat! Maybe you're thinking that it's time for a change. If you haven't yet experienced all the benefits of installing a wireless thermostat, now is the time to make the jump. Many families have already discovered the wonders of utilizing a wireless thermostat system instead of relying on old, outdated devices.
Extra Air and Heat, the resource for air conditioning repair Daytona Beach residents trust, can help you make the switch by offering wireless thermostat installation at your convenience and at affordable prices. If you're tired of the hassles of your old system, read on to learn the benefits that a new thermostat installation can offer you.
No Need to Get Up…
You heard it right. The days of getting up to change the channel on your television are long gone – so why are you still getting up to change the temperature on your household thermostat? Wireless thermostats are the innovation you're looking for. These devices can be controlled remotely … from anywhere! That means no longer having to go over to the thermostat whenever you want a change. Instead, you can simply use your Wi-Fi connected device (like your phone, computer, or tablet) to change the temperature from wherever you are. This allows you to fine-tune your home temperature for your comfort and convenience – whether you're relaxing on the couch, just sitting down at the dinner table, or busy doing household chores. It's a simple way to make your life just a little easier.
… Or Drive Home
But that convenience and connectivity isn't just limited to the inside of your house! Wireless access means that you can control your home air and heat from wherever you may be. Maybe you forgot to change your temperature setting before leaving for work – or, alternatively, you're headed home early and want to cool or heat your home so it can be comfortable the moment you return. You also might appreciate being able to keep an eye on the temperature and adjust it for a pet, or to help out a child or elderly family member who might have problems trying to navigate the system. For any of these scenarios, wireless thermostats make the process a breeze. Simply use your phone or other device to connect to the system, then set the house temperature to wherever you want it to be – you're in total control! Even when you're miles away, you can enjoy your time without worrying about your home's heating and air.
Save on Energy Costs
Exercising this control over your home temperature can get you started on reducing your home's energy costs. Use your wireless thermostat to conveniently run your HVAC system less when you're out of the home and avoid sacrificing comfort by cooling or heating your home right before you return. You can take this convenience to another level by switching to a smart thermostat – another kind of wireless thermostat. Some of these devices have the ability to learn about your heating and cooling habits by analyzing patterns or even asking direct questions, learning how to best work with your schedule and save you money on your energy costs without you having to lift a finger. Isn't technology amazing?
Leave your HVAC Worries Behind
Connecting your device to your thermostat means being able to have a greater peace of mind about heating and cooling in your home. You don't have to be uncertain about whether or not your device is operating correctly while you're away or taking a weekend vacation – you can check on the temperature any time on your connected device. If there are any problems, you'll know – you can track the changes or even receive notifications about any problems. In some cases, this can help you with remembering regular maintenance. You can even be notified when it's time to change a filter! This level of convenience takes some stress off your plate so you can worry less about your home temperature and more about all the other important things in your life.
Get Started with A Name You Can Trust
Sound good? When you've decided it's time to make the switch to a wireless thermostat, contact Extra Air & Heat, the name for AC repair Ormond Beach FL residents count on. We'll make installation a breeze, and we're also here to answer any questions you might have about operating your wireless thermostat. Contact us today when you're ready to get started.