Tue, Jan 08, 2019 at 10:00AM
---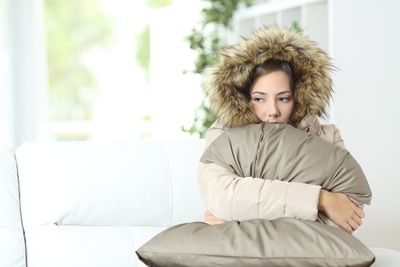 Winter in Central Florida is the time that many people look forward to all year long. Now's when the climate is temperate and pleasant. It's a major reason why tourism experts say more people visit the area during the first few months of the year than at any other time.
Still, there are days when it gets downright chilly. Recent cold snaps have likely warranted use of your home's heater. For some people, maintaining proper indoor climate control is a health issue that prevents serious respiratory and other complications. That's why it's essential to ensure your heater is always in great working order when you need it.
Even if an issue arises, it's nice to know that expert assistance is available to help keep you comfortable inside your home at all times. Use this advice to avoid and troubleshoot common heating problems.
1) Strong Odor
Here in Central Florida, you likely don't have the heat on very much throughout the year. So when you turn on the unit for the first time, it's normal that you might notice a subtle dusty smell. However, when this odor persists, it could be a sign of a bigger issue. This can also create a serious health problem for you and your loved ones. That's why you should contact a reliable Palm Coast heating and air company without delay.
2) Cool Air from Vents
Is your heater on, but you're only getting cool or even cold air from the vents? This could be due to many factors, including leaks in the air ducts. When this happens, it's essential that you immediately contact a company well-versed with A/C repair in Daytona Beach, Florida. Skilled and qualified HVAC technicians can quickly diagnose and repair the problem.
3) Stop and Start
Sometimes called "short-cycling," this is when your heater will turn on and run for a few minutes and then stop before the set indoor temperature has been reached. In some cases, the culprit could be a dirty air filter that needs to be replaced. However, it could be a sign of a larger issue. Rather than waste precious time trying to diagnose the problem on your own, it's best to contact a trusted and reputable HVAC company to solve the matter once and for all.
4) Higher Utility Bills
Sometimes, all seems normal in your home until the power company sends you a sky-high bill. What's going on? Any heater malfunction forces the unit to work harder. When this happens, the system is using more energy, which will result in higher bills. Even if the problem isn't noticeable, the unit requires prompt repair to prevent further complications. Contact a stand-out company skilled with heating and air conditioning repair in Port Orange, Florida.
5) Other Issues
These are just some of the most common issues you could face when trying to heat your home. Other possible scenarios include a constantly-running motor. Your thermostat might be set too high. Or, you might notice a water leak. Less common in heaters than with air conditioners, this is still a sign of an issue that must be quickly resolved. Maybe your heater squeaks whenever it's running. It could be a problem with the belt.
Rather than trying to diagnose problems on your own (or ignoring warning signs altogether), it's wise to contact a dependable HVAC company with a proven track record of success. For years, we've been the go-to resource for homeowners across Volusia and Flagler counties in Central Florida. Well known and respected as a trustworthy leader for A/C repair in New Smyrna Beach, we also offer other valuable services. That includes new equipment installation, indoor air quality, and much more. Contact us today for expert assistance with all your heating and cooling needs.