Fri, Mar 24, 2017 at 10:55AM
---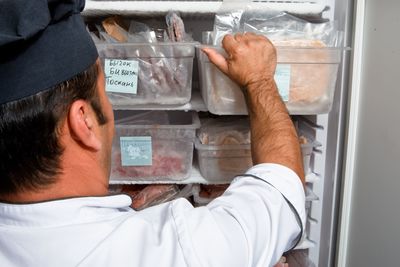 Commercial refrigerators come in all shapes and sizes. As a new restaurant owner in Daytona Beach, how do you decide what refrigeration system will be best for your business?
By thinking ahead and anticipating the specific refrigeration needs for your restaurant, you can save yourself a lot of time and money in the long run. And, we all know that you need both of these on your side when launching any new business venture!
Are you about to purchase a commercial refrigeration system for your restaurant? In today's blog, we're sharing some of our top tips to picking the right products for your business. Take a look!
When it comes to commercial reach-ins, size matters
The first thing to consider before purchasing your new refrigeration unit is the size of the equipment that you will need. Start by asking yourself some simple questions… how many customers will we serve on a daily basis, and how often do we reorder our regular stock? This will help you decide if you need to purchase a 1, 2, or 3-door unit.
After you decide on which option is best for you, take the time to measure out your available space. Don't forget to also measure any doors or hallways that the equipment will need to travel down to reach your kitchen. Don't waste time buying equipment that doesn't fit!
It should be reliable and functional
No restaurant owner wants to return to work in the morning and find spoiled food due to malfunctioning or broken refrigeration equipment. In fact, that's probably every new owner's worst nightmare!
Before purchasing your new units, you need to make sure that they are both reliable and functional for your specific business. How long is the warranty on the product? Who will service it when it needs routine repair? How much do you need to budget for part replacement and regular maintenance? These are all important questions to consider.
After you have a better idea of these answers, remember that you want to invest in a durable, high-quality product from a respectable vendor that will last. Your refrigeration system needs to be reliable since it has to keep your food cold— 24 hours a day, 7 days a week, and 365 days a year. Don't forget that spoiled food equals unhappy customers! Keep your customers satisfied and coming back for more by purchasing the right equipment, the first time.
Organization is key
Your refrigerator at home may be a little messy from time-to-time, but organization is crucial to the success of your new business. Always follow the First-In, First-Out rule! When organizing your stock, place the newer items at the back of the shelves in your refrigerator or freezer.
Make sure the use-by dates are easy to see by writing them in large numbers on the boxes, so your employees always know which products to use first. Also, label the shelves, so the products are easy to find and easy to return to the right spot. Lastly, use all open products first before opening a new box.
Keeping your stock organized will help you to reduce waste, save time, and most importantly, save money!
If you need to install a new, commercial refrigeration product or just need a repair service for the equipment you already have, give us a call! We service all of Volusia, Flagler, and Orange counties.
Do you have any other successful tips to share with new restaurant owners in Daytona Beach? Let us know!