Wed, Mar 31, 2021 at 5:50PM
---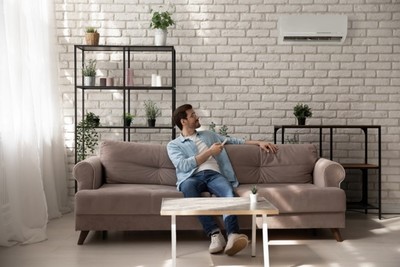 Ultraviolet lights offer a wide array of benefits for your home's heating and cooling system. This feature has grown in popularity in recent years due to the role it plays in improving indoor air quality – something that is especially important for those with allergies or respiratory problems. Most UV lights are mounted inside your HVAC unit and shine a cleansing light on its coil, yielding invaluable results. Continue reading to learn more about how UV lights benefit your Palm Coast air conditioning system!
Increased Airflow
As time goes on, your air conditioning system will naturally accumulate debris in its channels. Of course, air filters work to trap some of these particles, but they are only capable of doing so much. A UV light will prevent microbial buildup on air filters, as well as cooling coils, drain pans, and duct surfaces, keeping your system working like new. Because of this, contaminants are less likely to build up and your airflow will be better than ever, which puts less strain on your system.
Improved Energy Efficiency
Purchasing a UV light for your HVAC system is an investment in your home's overall energy consumption. In fact, it can improve your energy efficiency by up to 35%, which directly translates to savings on your energy bill. As air conditioning systems age, their capacity is naturally reduced due to contaminant buildup. Plus, HVAC systems are responsible for a majority of your home's energy consumption. The addition of a UV light will restore your system's performance to optimal levels.
Disease Prevention
After the last year, the importance of airflow and circulation has been made evident to many Floridians. HVAC systems are designed to circulate air throughout the residence, but the downside to this is that it can also help circulate a variety of airborne bacteria and viruses. When you include Florida's humid climate, it is incredibly difficult for air conditioning systems to remain dry and bacteria-free inside. UV lights stop microbes in their tracks before they can ever become airborne, reducing the risk of mold and disease.
Cost-Effective Investment
Adding a UV light to your HVAC system is one of the best ways to help the system keep itself clean, which means that your air conditioning will require less maintenance over the years. There are a few factors that contribute to the effectiveness of UV light, such as the intensity and number of lamps installed. Before investing in a UV light, ask the experts at Extra Air & Heat for a proper evaluation of your home's conditions to make sure it is a correct candidate for installation. If your home has the right conditions for a UV light, the investment is more than worth it when you consider the health-related and money-saving benefits.
Whether you would like to learn more about UV lights or proceed with your installation, give the experts at Extra Air & Heat a call! We offer coil sterilization UV lights as well as air sterilization UV lights to maximize the safety and comfort of your air quality. Don't let your Palm Coast home be uncomfortable due to poor air conditioning for one second longer – contact us today!